There are lots of fun things to see or do in The Forest of Dean in Gloucestershire. The area has many options for places to visit and tourist attractions to have fun. There are many fun activities fun and beautiful sights for you to see. There are also some hidden gems to explore when venturing off the popular forest trails. Travelling in the forest is best on foot, bike, car or on the buses.
Forest Of Dean
The Forest of Dean is a stunning area of ancient mixed woodland and one of the few surviving ancient woods in England. The Forest of Dean covers over 42 square miles of countryside and is a diverse habitat for wildlife. This area has an industrial past based mainly on the mining industry. There are remnants of the iron, coal, and you can spot even gold mining in the forest.
History
Historically, they reserved a large part of the woods for royal hunting before 1066. It subsequently remained as the second largest Crown forest in England, the largest being New Forest in Hampshire.
Popular
Tourist Attractions, Places to Visit and What to See
There are many Tourist Attractions In The Forest Of Dean to suit most interests. The biggest attraction is the miles of ancient woodland to explore, either on foot or by car.
Walking in the Forest of Dean
My preference for a free day out is a circular walk, with breaks for taking photographs of scenery or wildlife if you are in the right place at the right time. Accompanied by a picnic and drink as required. There are countless hiking trails to choose from, including short or long, depending on how far you wish to go.
Visit Dean Forest Railway A Fantastic Attraction
The Dean Forest Railway is a recreation of the historic Severn & Wye railway that they restored to its current state. You can enjoy a trip of over 8 miles through the Forest Of Dean on the line between Parkend and Lydney.
The attraction usually has two locomotives running when open, including steam and heritage diesel trains. The site also has a museum all about the historical train lines in the Forest of Dean. It is a great day out for children and adults and as a bonus is dog friendly.
Have Fun at GoApe and do Adventure Activities
GoApe Adventures is the place to visit if you are searching for a fun adventure in The Forest of Dean, Gloucestershire. Activities include a treetop adventure with lots of climbing and zip wires. The company certainly knows how to create fun for all of its visitors.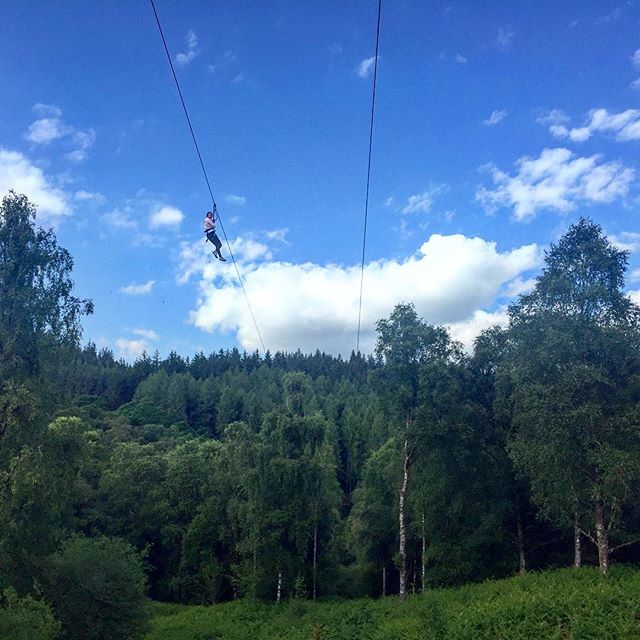 They also have a Tree Top Adventure site at Mallards Pike in the FOD. Activities include a zip wire, a Tarzan Swing, and climbing on high ropes crossings whilst enjoying fantastic views of the Forest. Also. their Tree Top Junior is at Beechenhurst Lodge. Tree Top Junior is more suitable for children than the full treetop adventure experience.
The centre also is available for corporate team building events at some of their UK adventure centres. Team Building is great for getting to know colleagues or club members better. This is one of many popular places to visit for corporate team building days. Other options sometimes include kart racing, off-road driving or water adventures like kayaking. BOOK YOUR VISIT..
Forest Segway
The Segway Experience is a fun thing to do at Mallards Pike in the Forest of Dean as well. This is a wonderful way to explore the main trails through the ancient woodland of the FOD. The trails around Mallards Pike are very picturesque and great for a hike after the activities.
Visit the Dean Heritage Centre
The Dean Heritage Centre is in the pretty valley of Soudley in the Forest of Dean. Dean Heritage Centre exists to record and preserve the unique social and industrial history of the area and its people. The centre comprises the museum itself, a millpond and waterwheel, a forester's cottage, also with gardens and animals. The centre also has art and craft exhibitions and workshops. There are many walking trails around the surrounding woodland.
The museum has five galleries telling the history of the Forest of Dean. This covers from the earliest geological and fossil records to the present day. They display a wide variety of artefacts from industries, such as coal mining, iron mining, forestry, and more.
The more noteworthy artefacts in the museum's collection are an 1830s Lightmoor Colliery beam engine. Also at the museum are Thomas Sopwith's 1838 geological model of Dean Forest and The Voyce collection of 18th and 19th-century long-case clocks.
In addition, there are picnic tables, barbecue hearths, an adventure playground.There is also a gift shop selling local produce. Finally, they have a Heritage Kitchen, a restaurant providing home-made food.
The Dean Heritage Centre is open throughout the year. However, is has reduced hours in winter. Car parking is available to visitors, they also have additional disabled spaces. For more visitor information, see their website http://www.deanheritagecentre.com/
Explore The Forest of Dean Sculpture Trail
This is a great day out for those that enjoy art and walking in the woods. There are 16 sculptures on the Sculpture Trail, which is about 4.5 miles long. To see every sculpture it takes about three hours, however many take longer because of picnics or detours to see the natural beauty of the area.
Enjoy The Views when visiting Symonds Yat Rock
Symonds Yat Rock overlooks a spectacular gorge through which the River Wye snakes. This rock is the perfect viewpoint from which to watch raptors. You can watch a pair of Peregrine Falcons that nest annually within sight of the rock through telescopes.
Visit Puzzlewood, a popular tourist attraction
Puzzlewood covers 14 acres of ancient forest, which also shows evidence of open cast iron ore mining dating from the Roman period, and possibly earlier.
There were several miles of pathways laid down in the early 19th century to provide access to the woods and provide picturesque walks. The area contains strange rock formations, secret caves and ancient trees, with a confusing maze of paths. They say it was one of J. R. R. Tolkien's inspirations for Middle-earth in The Lord of the Rings.
Perrygrove Railway
A trip along the Perrygrove line near Coleford takes just over 30 minutes from end to end. There are four stations where you can alight to take part in fun activities or enjoy the surroundings. Visitors can ride the trains as many times as they require, all included in the ticket price. There are many walks just off the various stations for you to enjoy. They also organise vintage working weekends for enthusiasts to join in. https://www.perrygrove.co.uk/
Discover Disused Railway Lines
There are also many disused railway lines throughout Gloucestershire, including many disused rail bridges on the River Wye. Such as the Duke of Beauford Bridge near to Monmouth. The walk from Monmouth to the bridge is rather nice and seeing the bridge is a great bonus.
The Wilderness Centre
The Wilderness Centre is a historic stately home nestled within 30 acres of private grounds in Mitcheldean. Its grounds include forest, fields and its own stone circle, commanding spectacular views over the River Severn. It also has many beautiful views across Gloucestershire countryside.
Known to an entire generation of people, throughout Gloucestershire and beyond. Typically, as the place where they had their first adventure away from home. The Wilderness Centre has been successfully providing outdoor education with accommodation for young people for 50 years.
The Centre remains true to its 50-year legacy and continues to focus on providing exceptional residential stays for schools. Their qualified team share their knowledge and invite the young people to explore, learn and connect with nature. After all, the great outdoors is the greatest classroom ever. Guests can take part in onsite outdoor activities, such as bushcraft, archery, abseiling, crate stack and orienteering. These are with qualified instructors. www.wilderness-centre.co.uk
Goodrich Castle
Goodrich castle is a Norman medieval castle ruin, just north of the village of Goodrich in Herefordshire. They built it to control a key location between Monmouth and Ross-on-Wye. This is a splendid place to explore, and the location is very picturesque. The closest pub is Inn on the Wye, a classic country pub who serve excellent beer and traditional food. More info…
Chepstow Castle
The oldest surviving post-Roman stone fortification in Britain, it also is a great visitor attraction. Above the cliffs, on the River Wye in Chepstow, over the border in Wales, is Chepstow Castle. Construction of the fortification began in 1067 under the instruction of the Norman Lord William FitzOsbern. More info…
Clearwell Castle
Clearwell Castle in the Forest of Dean is a grade II* listed Gothic Revival mansion. They originally called it Clearwell Court. They built it in the Gothic style in 1727. The castle is now a wedding venue, thus not really a tourist attraction. However, they have open days for prospective brides and grooms.
St Briavels Castle
St Briavels Castle is a moated Norman castle at St Briavels in the English county of Gloucestershire. The castle has a huge Edwardian gatehouse that guards the entrance.
YHA St Briavels Castle is a place to stay with a real wow factor. A place that will amaze and inspire visitors of all ages. The castle is over 800 years old, with well-preserved features throughout. It's a Grade I listed ancient monument, a rich piece of history and an inspiring location. Get transported back in time to Medieval world of King John and the Magna Carta. This youth hostel has 60 beds across 9 bedrooms but can on request increase its capacity to 66.
The castle is open all year round for group bookings. They release beds and rooms for families and independent travellers three months in advance. Thus, you need to check their website for availability. Visit Website.
Harts Barn Cookery School
Harts Barn Cookery School is in the Forest of Dean in Gloucestershire. They offer a variety of cooking classes, including bread making. Harts Barn Cookery school aims to make cookery skills available to all. Besides cooking events, they organise events, pop-up restaurants, a hire-a-chef service, foodie demonstrations, parties, and large group packages.
The Barn also has an earth oven and courtyard area for outdoor cooking experiences on location. It features a lake, picnic area, and also has a tearoom for those that want to extend their day of cooking beyond the kitchen. Also, the centre offers a wide range of classes for you to learn new culinary skills.
The centre is also home to craftspeople and local artists who sell their jewellery, wood carvings, modern art, and vintage homeware in the shops on site. www.hartsbarncookeryschool.co.uk
Places to Visit in The Forest of Dean
Holidays in The Area
The Forest of Dean is a beautiful location for an inland holiday in the UK. Accommodation can range from camping, glamping, B&B and hotels to suit your taste. There is a wide choice of adventure holiday activities, including walking, bushcraft, and watersports on the River Wye AONB.
Favourite Things to See in The Forest of Dean
Our favourite places to visit and things to do in the area are.