Holiday Homes & Cottages Gloucestershire are ideal as a base for a cycling or walking holiday. These are ideal for visitors who want a peaceful retreat to relax from city life. Or a secluded family holiday with gardens and countryside or a beautiful location for artist or writers to gain inspiration.
A rental property is an ideal accommodation for groups or families looking to organise a holiday in the local area. A choice of cottages/homes are available to accommodate 2-12 people. Ideal for a family retreat, a romantic break, for adventure or for those interested in wildlife. A holiday home rental in the county could be ideal and something new for you to try.
Gloucestershire Locations
We have created pages for the two most popular areas of Gloucestershire for holiday rentals. The Forest of Dean is popular with outdoor enthusiasts looking for adventure. The Cotswolds is popular with hill walkers and those that like to relax in quaint country villages.
Cottage Companies
there are many companies that let cottages in Gloucestershire including hotels.com and Sykes ho have a comprehensive catalogue.
Holiday Homes
There are many very nice holiday homes to rent in all areas of Gloucestershire. Aboutglos have selected a few that are available for an inland holiday.
The Lock House Gloucester Docks
3 Bedroom holiday rental for up to 6 adults. A former lock keepers house, occupying a unique location at the entrance to the historic Gloucester Docks. Details
Montpellier Town House In Cheltenham
Located in Cheltenham's most fashionable location Montpellier Town House gives you the comfort and elegance of five star Regency living. An indulgent rental for a romantic break away or for walkers and cyclists on the Cotswolds Way. More info…
The Red Bus
The Red Bus in Newnham on Severn, Gloucestershire is a unique place to stay for a staycation in the area. The Bus is located in a secluded rural location and is very cosy with nice decor and comfortable furniture. The location is special as there is wildlife in abundance with lots of wonderful walks in the area.
The Bus has 2 bedrooms and 2 sets of child bunks so can sleep 4 adults and 2 children comfortably, for the kids there is a play area on site. The accommodation has all the modern amenities including an oven, microwave, coffee machine as well as a TV and DVD player. Bed linen is included in the prices and single pets are allowed to stay. For those that like to cook outside, there is a fire pit and a decking area which has a table for alfresco eating. For those that like to relax and unwind after local adventures or your journey the Red Bus also has a hot tub. More info…
The Lakeside Yurt Tewkesbury
The Lakeside Yurt is based in Beckford near Tewkesbury, Gloucestershire. The Yurt is a very unique form of holiday accommodation, it has 1 bedroom and one bathroom and comfortably houses 2 people Ideal for a romantic getaway. This is a spacious place and is very cosy.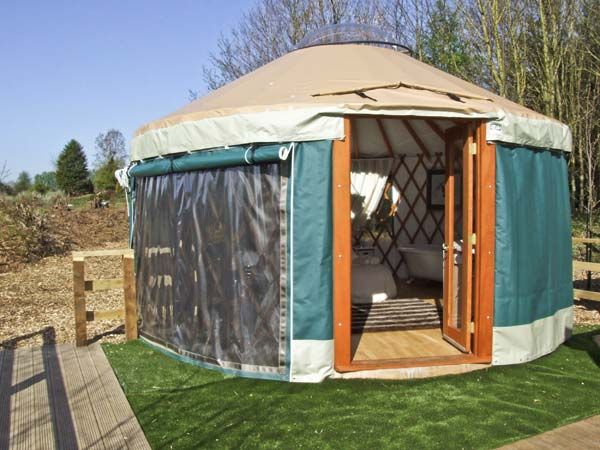 The Yurt overlooks the owners private fishing lake, has access to a hot tub. In addition to this, there is a swimming pool. The Cotswold village of Broadway is close by as is Evesham and Cheltenham. Locally there is lots of picturesque Cotswold countryside for walkers to explore. MORE INFO…
There are many other different holiday homes for you to rent in and near Tewkesbury. This includes some great options in the town centre. Some are located on the edge of the Cotswolds and some nearer the town MORE…
Suggest
If you wish to get your holiday rental property listed with us. The best courses of action to add your details via the @aboutglos free advert form.