Our guide to the different options for hotels in Gloucestershire. There are many hotels in the county, including Gloucester, Cheltenham, the Forest of Dean & The Cotswolds. Many of the local hotels also have spas to enhance your stay, some even have special offers of spa breaks.
Hotels In Gloucestershire
There are many types and standards of hotels, bed and breakfasts and even guest houses in the centre of Cheltenham or Gloucester. These cover a range of budgets, from very cheap rooms to some real luxury.
Holiday Inn Express Gloucester
At Waterwells Business park, is the Holiday Inn Express is the closest hotel to M5 Motorway Junction 12. The hotel is located just opposite the Bumble Bee public house and near to the park and ride into the city. They have rooms in many configurations, including larger family rooms or twin room which are ideal for work colleagues to share. The hotel has a bar which serves a limited menu, including pizza and other snacks. Breakfast here is a buffet style with many options, including Danish pastries, fried breakfast, cereal, yoghurts, and also toast.
The Edward Hotel Gloucester
The Edward Hotel In Gloucester is a suitable place to stay when visiting Gloucester. It is near the centre of Gloucester, with easy road and public transport links to most of Gloucestershire.
The Edward has a choice of room sizes to suit most groups; it has a bar stocked with a superb choice of drinks and does a very nice full English breakfast in the mornings. The Edward Hotel.
The New County Hotel in Gloucester
The New County Hotel enjoys an enviable location, in the centre of Gloucester. This contemporary hotel is a perfect choice for business or leisure. The hotel boasts 39 stylish bedrooms, restaurant, bar, relaxing lounge area, meeting rooms, free Wi-Fi, discounted parking and Sky Sports.
The New Inn Gloucester
If you are looking for a budget place to stay, then the New Inn in Gloucester might fit the bill. The New Inn is a historic place in the centre of the city. They have pleasant rooms in a very old building. You can book easily online and the rooms are nice. On my stay, the room was pleasant, with both modern and old features. As a bonus, the room had a bath and a fantastic shower.
The Hotel is also a pub which is handy for a drink after a fun day sightseeing in the city. Apparently the building is haunted, however we got no bumps in the night. Overall, I enjoyed staying at the New Inn in Gloucester.
Hatton Court Hotel
Hatton Court is a reassuring size; not large and impersonal, nor too small. As a former splendid Cotswold home, the feeling is of being eminently comfortable. As opposed to grand, also nothing is hurried.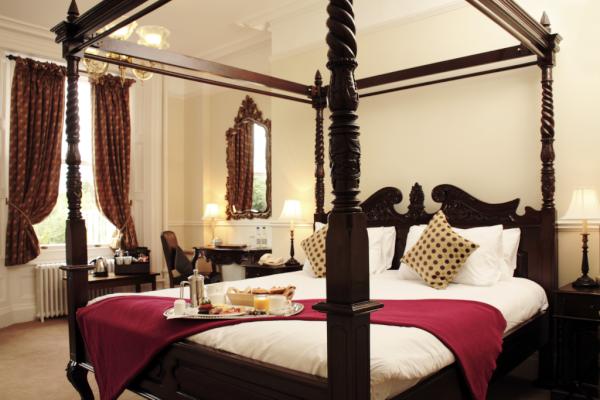 A Contemporary country house with the Cotswolds warmest welcome. Set high on an escarpment overlooking the Severn Vale, this 45 bedroom country house hotel lies between the Cathedral City of Gloucester and Regency Cheltenham. Hatton Court provides the right balance between traditional hotel service and all the benefits you would expect from a contemporary hotel. It is an ideal place from which to explore the Cotswolds.
The Hatton Court Hotel provides a handy rest-stop in its Cotswolds location in the village in Upton St. Leonard's, near to Gloucester. They originally constructed the building in the '20s and became a hotel in the 1950s. The restaurant and bar provide a menu of light bites, traditional Sunday roasts and afternoon teas. They can host functions including weddings, special occasions and corporate meetings.
Stay at this country house hotel in the Cotswolds that is renowned for its stylish bedrooms, great local food and warm, friendly service. That hotel has four-poster beds, spa baths and more to make your stay special. Book a Stay…
Cheltenham Regency Hotel
1 or 2 Nights Plus Dinner from £99 at Cheltenham Regency Hotel. Accommodation at a hotel in Cheltenham surrounded by landscaped grounds. Included a stay for two in a superior double room with breakfast. Details…
Queens Hotel in Cheltenham
The very Grand Queens Hotel is near Imperial Square and Gardens in the regency town. Queens was one of the first purpose-built hotels in Europe. It is at the site of the original Sherborne Spa. The hotel dates back to 1838, thus steeped in history and named to honour Queen Victoria. The architecture of the building is neo classical and includes over 50 columns in its structure.
Queens has 84 luxurious rooms, all with room service and is very impressive inside and outside. As well as housing guests, queens hotel has a fantastic restaurant for fine dining of local produce from the county's farms. There are meeting and event facilities to hire at this 4-star venue as well.
Jurys Inn Cheltenham
The Jurys Inn Cheltenham is situated just off Gloucester Road. It is a four-star hotel that is a short drive to either the racecourse, the Cotswolds or the town centre. The hotel has a choice of 122 bedrooms with large comfortable beds, an en-suite bathroom and all the expected features of a 4-star hotel. More info…
The Royal George Inn in The Cotswolds
Built around an original 17th century Cotswold stone building. The Royal George Hotel combines all the friendliness of a traditional country hotel matched by friendly customer service. The Hotel has 27 acres of grounds on the Cotswold hills with views of Gloucester and Cheltenham and its neighbouring villages below.
The Royal George Hotel is a handsome coaching inn on The Cotswold Way, making it an ideal retreat. This area is popular with walkers and cyclists.
Corse Lawn House a Country House Hotel
Corse Lawn House is an elegant Country House Hotel nestled in the heart of the beautiful Gloucestershire countryside. Originally a Tudor Inn, the building burnt down early in the 18th century and rebuilt in 1745 in the Queen Anne style, as an attractive Coaching Inn. One of Corse Lawn House's key attractions remains the old 'Coach Wash' at the very front of the hotel. They kept it as an unusual ornamental pond, around which you can enjoy afternoon tea and the Bistro menu.
This beautiful house now hosts one of the country's finest Country House Hotels, which includes nineteen luxury bedrooms, three drawing rooms, two private dining rooms, together with conference rooms, an attractive bar and the multi-award-winning restaurant and bistro run by Mrs Hine and Head Chef Martin Kinahan. The Bistro boasts quintessential English charm. Every painting and ornament is a family keepsake, some dating back generations. This family-run, independent country house is truly unique and offers something very different from the conventional Cotswold gastropub.
A special Corse Lawn House Bistro menu is available for both two and three courses, which they offer at lunch and dinner every day of the week. www.corselawn.com
Fleece Hotel Cirencester
In the centre of Cirencester is the dog-friendly Fleece Hotel. A popular and well-reviewed place to stay if visiting Cirencester or the Cotswolds. However, the fleece oozes country charm with its old beams and log fires. The hotel's rooms are of a very high standard with good-sized rooms. Room formats include large twin or rooms with a double bed. For larger family groups, they have suitable guest accommodation for you on request.
Central Hotel Gloucester
Central Hotel is a budget place to stay in a central location in Gloucester. It is right next door to Kings Walk Shopping Centre, and near to all the main city centre attractions. Their bedrooms have pine furniture and a plain decor. Each room comes with free Wi-Fi and a big flat screen television.
The Station Hotel Gloucester
Near to the Gloucester Railway and bus stations is the budget Station Hotel. They built it in 1880. The Station Hotel has a pleasant bar and restaurant that serves home-cooked food. Their rooms all have ensuite bathrooms, satellite television and facilities to make hot drinks.
Fleece Hotel in Cirencester
In the centre of town, is the dog-friendly Fleece Hotel. A popular and well-reviewed place to stay if visiting the town of nearby Cotswolds. The fleece oozes country charm with its old beams and log fires. The hotel rooms are of a very high standard with good-sized rooms. Room formats include large twin or rooms with a double bed. For larger family groups, they have suitable guest accommodation for you on request.
The Fleece is home to the "1651" restaurant, and Cotswold style bar. These two dining options serve high-quality English and International cuisine. The hotel restaurant, however, provides a more traditional atmosphere than the bistro-style of 1651.
Search For Hotels in Gloucestershire & The Cotswolds